We are pleased to present our
new findings & research
evenings, these new events provide a platform to engage in critical debate through discussions by leading people in the fields of curating, art theory and critical writing, of the works of two artists.
The works are expected to be new, previously un-shown and perhaps even works in progress. The idea is to enter into a discourse whereby new findings and research can be tested before an exhibition situation.
These events are more then just the creation of a critical environment, but a site to develop an audience that can engage and develop lines of thinking that would otherwise not exist.

The event will be run on the third Tuesday of every month.

---
Previous Events

We are very pleased to say that for our next event Ben Woodeson will be presenting his work along with one source of influence.


Ben Woodeson is known for his deliberately dangerous sculptures and he will be talking about works from the Health & Safety Violation series and the new Causality series.
Ben Woodeson's sculptures are brutally performative; they inhabit a particular moment of action and subsequent reaction. Their physical activity instigates an intense and visceral relationship with the viewer and the gallery architecture. Ripples of consequence are sent throughout the sculptures and audience alike. Woodeson's skilful manipulation of materials in space challenges the viewer to respond to a unique environment of cause and effect.
The works spin, roll, wobble, fall, flick, collapse, shatter and even ignite… but when? The control systems are automatic, random and frequently self- destructive. Some works are calm, stable and self-contained whilst others confront the viewer with overtly catastrophic outcomes. The nature of the sculptures means that the exhibition will continuously evolve and no two visits will be the same.

www.woodeson.co.uk

---
We are very pleased to say that for our next event Kate Janes and Dan Westlake will be presenting their work.


Kate Janes
My practice includes large outdoor public events as well as smaller performativepieces. Documentation, sequential processes and the setting up and dismantling are an integral part of the work.

Drawing often runs parallel with sculptural works and can encompass lists, brainstorms and statements. For me the appeal of text-based work is its immediacy and how it can highlight the insufficiencies of language.



Dan Westlake
Dan Westlake's multi-dimensional practice includes the production of texts, sound works, video installation and performance. Often working with others as either collaborator or curator, Westlake's practice is committed to a positive engagement with information technology and digital communication.

---

This month we are very pleased to announce that we will be discussing the work of Carlos Noronha Feio and Xenofon Kavvadias.


Carlos Noronha Feio

For the use of an
Emancipated Other
Manual one
Washing the flags
Work process:
Research
Assimilation
Formulation
De-codification
Removal of meaning
Enacting as an aseptic action
Re-codification of action
Dissemination

Instruction Manuals
to be disseminated through the internet.

Video to be dubbed in several languages,
to contribute please write to mail@carlosnoronhafeio.co.uk

CNF 2011


Xenofon Kavvadias
The work inhabits the space that is created by the intersection of life, art, politics and law. I am interested in life as Art being sensitive to scenes of rupture, sensitive to moments that are open and ambiguous and that contain all those tensions that heighten consciousness and deepen understanding on contemporary condition and situation.
"A person commits an offense if he publishes a statement in which he glorifies terrorism or is likely to be understood by members of the public as direct or indirect encouragement or other inducement to the commission, preparation or instigation of such acts or causes another to publish such a statement"
Terrorism Act 2006.
"The law is no less conceptual than fine art"
Lord Carlile of Beriew, Independent reviewer of terrorism legislation U.K.
'The west has fiscalised its basic power relationships through a web of contracts, loans, shareholdings, bank holdings and so on. In such an environment it is easy for speech to be "free" because a change in political will rarely leads to any change in these basic instruments. Western speech, as something that rarely has any effect on power, is, like badgers and birds, free.'
Julian Assange: Q & A on the US diplomatic cables The Guardian 3/12/2010.
'War isn't pretty. It never has been. It is essential to know that approximately 60-70% of all cultural Marxists or suicidal humanist are female and up to 20% of police officers and military personnel (system protectors). Being a Justiciar Knight will involve killing our targets, or any system protector trying to stop us, indiscriminately. You will face women in battle and they will not hesitate to kill you. To them, you are just another armed criminal nut case as they will not know your true political agenda until after you have been slain or are apprehended. If you hesitate as much as a second due to the fact that your opponent is female you will fail. You must therefore embrace and familiarise yourself with the concept of killing women, even very attractive women.'
Andrew Berwick "2083 a European declaration of independence" 3.46 Page 933
"While it may be legitimate to ban incitement to terrorism or acts of terrorism states should not employ vague terms such as "glorifying" or "promoting" terrorism when restricting expression. Incitement should be understood as a direct call to engage in terrorism, with the intention that this should promote terrorism and in a context in which the call is directly causally responsible for increasing the actual likelihood of a terrorist act occurring".
UN special rappourteur on freedom of opinion and expression 21/12/2005:

"One of the most controversial examples of this trend was provided to the Panel at its U.K. Hearing. The U.K. legislation allows for the offence of "indirect encouragement by glorification" is inter alia committed, irrespective of the intent of the author, if some members of the public may "reasonably be expected to infer that what is being glorified is being glorified as conduct that should be emulated." For example, the U.K. government purports simply to be implementing the Council of Europe Convention but fails to integrate into U.K. law the requirement that there be an "intent to incite." Many participants at the U.K. hearing raised concerns that the breadth and the ambiguity, of the offence of "glorification" create a risk of arbitrary and discriminatory application. The risk of such abuse is exacerbated by the fact that the offence applies also to past acts of terrorism and to terrorist acts occurring in other countries. Witnesses expressed concern that such wide-ranging laws reduce legitimate political debate, particularly within immigrant or minority communities."
"Report of the eminent jurists panel on terrorism, counter-terrorism and human rights" 2009
---

We are very pleased to announce that the two artists this month will be
Alan Magee and S.M.A.C, Sean Mcalister and Stephen Mackie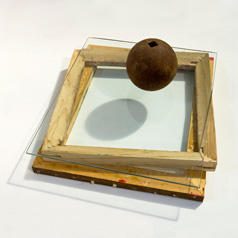 Alan Magee
My work is an ongoing investigation into the human condition, choice and
self-improvement. Working closely with materials and materiality, and using these as a metaphor for us, and how we make choices, I alter and manipulate everyday objects. These objects undergo transformations, at various stages, focusing on their nature and the particular qualities and associations of the materials. Some works are casually assembled whilst others are more skilfully manipulated making evident the labour required to manipulate them. Continuing with the metaphor the intricate works become an index of the time invested in their making, the result of mental and meditative activity, rather than an emphasis on physical exertion or virtuosic ability. Residue (the working title of the show) refers to what's left over after all our self-improvement endeavours. We are the residue, of a life, of failed attempts at perfection. And that's fine by me.


S.M.A.C, Sean Mcalister and Stephen Mackie
The meta architecture project deals with this notion of visually representing a subjective experience of space. For this we have surveyed two spaces in London, a studio apartment in Hackney and the gallery space we are exhibiting in. To do this we use photography, film and hand drawings as a way of testing our research. 
An important question this project aimed to ask the viewer is
"how is your holistic visual perception of space different from the limits of what your eyes can see?" 
Assuming there is no single objective answer to this question, our drawings and video are expected to act as an interpretation of this 'holistic visual perception.' The intention is that the viewer uses this reference point to compare with their own sense of how they visually experience space.  For the project, an original soundtrack was composed as a reaction to the film, produced by renowned music engineer Vincent Oliver: http://www.lorecordings.com/

'black mill' is a previous, related film project by duo in two parts
part1 part2. Please wear headphones

---

19th April 2011

We are very pleased to announce that the two artists this month will be
Ines Rebelo and Olga Raciborska


Ines Rebelo's
My practice encompasses painting, drawing, installation and occasional collaborations with other cultural agents. Much of my projects combine a certain precision and rigor with a sense of endless effort as if someone is attempting to make sense of the world by empirical study. I am interested in the parallel stories that can arise in our relationship with mundane and overlooked ordinary objects, as much as I am interested in the relationship between scientific facts and the empirical experience of everyday moments.





Olga Raciborska
In my recent work I focused on such ideas as transformation and mutation which can manifest themselves in different ways. I think about mutation as an interaction between two figures when, by the fact they are touching each other, they become one. So in my recent art production I am investigating the connection between humans and animals and their possibility of morphing into something else caused by the contact.

My way of working is to deconstruct, destroy the original image (source image) to create a new one which is open to various readings. I would like to emphasise that in my newest paintings like Predator and Fish or Sex and Seafood the outcome of this process becomes less abstract and figures are distinguished from each other whereas in my earlier works they were much more joined together and abstract. To describe my process I would like to refer to a part of Greek cosmogony myth where Cronus, in an act of fear and jealousy eats his children then vomits after Gaia, his wife, had fed him poison. This brutal act of union and creation fascinates me and the digestive creative process depicted in the myth represents for me the process of painting.

---


23rd March 2011

We are very pleased to announce that the two artists this month will be
Jeremy Akerman and Gary Colclough



Jeremy Akerman's
last exhibitions were solo shows in 2010 at St Mary's Woolnoth Church, London and Arirang Gallery, Busan, South Korea respectively.

Current works are paintings and photo collages. He studied at Goldsmiths College and the Jan Van Eyck Academy, Holland.

He recently curated the Korean Cultural Centre Exhibition Future's future's future showing eight Korean artists resident in the UK, and has previously curated numerous group and solo exhibitions.
Akerman is one half of the organization AD which is dedicated to working with and publishing writing by artists. In 2007 they edited The Alpine Fantasy of Victor B and other stories, a compilation of fiction stories written by 17 leading UK artists, published by Serpents Tail. More lately they have edited Jon Thompson: The Collected writings, published by Ridinghouse for June 2011. The introductory text for the book, Why I trust Images more than Words, is a conversation between Thompson and AD discussing writing for artists and writing about art.



Gary Colclough's,
practice encompasses drawing, sculpture and projections. Central to his work is the presentation of hand-drawn images combined with diagrammatic wooden 
structures, sometimes incorporating 35mm slide projections.

Through various formal combinations of these elements he explores the relationship between the tangible and the practice of seeing and how the image functions as an element within spatial and temporal arrangements.


---

22nd Feburary 2011
Paul O'Kane and Tina Hage


Paul O'Kane.
Art is precious, like a brimming bowl of clear water that you carry through a life across a crowded and hostile terrain.

Nothing adequately describes experience but the photographic image
- moving or still - provides a parallel biography, both unnerving and reassuring in its veracity and conviction. The photographic image leads the artist to the edge of documentation and also to the end of creativity.



Tina Hage
In Tina Hage's digital photography based practice, she is most interested in the relationship between the crowd and the individual and how they are represented in the mass media. She deploys contemporary photojournalistic and topical imagery from newspapers and the internet, which Tina reflects upon by using herself repetitively to re-enact the found scenes.

Once re-made, these images sometimes feel more ambiguous than the initial context of the image as although they still refer to the source, questions are raised about the real and the new context in which the piece now exists.  

---
18th January 2011
Kristian de la Riva and Keh Ng


Krstian de la Riva's
images and animations focus on habitual patterns of human behaviour where simplicity belies subtle layers of complexity. In his work de la riva uses a minimal black line drawn style which is used to animate the actions of male and female figures. The characters for the work are taken from real footage often of himself, yet all detail, clothing and facial, is stripped away to create generic representations of a man or a woman. Such a reduction in the use of the human form often creates in the work a playful cartoon like edge that sits in contrast to the serious issues addressed. Kristian is currrently showing at New Contemporarires at the ICA.


Keh Hui Ng's
practice is concerned with the phenomenon of urban myth. He is interested in the stories that people remember, recount and re-deploy over time. His work questions the borders between reality and fiction as well as the issues that emerge between his subjects and their role in his artworks. His current ongoing project "The Cold War Ain't Over" deals with the recent spy exchange between the former cold war rivals Russia and the USA. His talk at this session will be about works in progress which include recently shot 35mm film, parts of a film script, storyboards as well as the research behind these works. 

---
7th December 2010
Matthew Stock and Kirsty Buchanan


Matthew Stock
has developed a system of extended projections that augment the defined boarders of the video experience. Binocular vision, and the wandering gaze of the viewer are absorbed into his video objects at the same time that the right-angled sovereignty of the filmed format is rejected. His video works redouble the instability of the reconstituted movie scene and bring to the fore the possibilities of revealing three-dimensional experience through a two dimensional medium.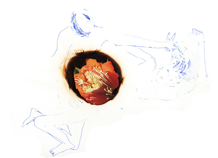 Kirsty Buchanan's
work is conceptually driven by the notion of shame and socially constructed boundaries. Kirsty is interested in how we have internalised the judgemental gaze of society to the extent that it affects our unconscious actions.

"I focus on the process of mark-making with no audience in mind. Being in the state of mind where I can be as explicit as I want to be without the fear of being analysed. I film myself making secretive drawings, and the film becomes the primary piece of work, recording the drawing in it's various transient stages of existence."