ZERO RECOIL DAMAGE

"If you don't like how the table is set, turn over the table."
Frank Underwood

The Modern Language Experiment is excited to be responding to the Folkestone Triennial 2017 theme of "Double Edge". In conversations with the curator, Lewis Biggs, it is clear that the theme, whilst being relatively open to interpretation, is deliberately reflective of the time, place and context under which this edition of the Triennial will be shown.

In the popular game series Pokemon the term "Double Edge" refers to a specific move a player can make to defeat an enemy whilst incurring personal damage of between 25 to 30 depending on which version of the game they are playing.

There are many variations of the "double edge" move and Wikipedia describes some as reckless, life-risk-ing tackles that also cause severe harm to the user. Interestingly a Pokémon player wearing a "Rock Head" helmet however is protected and does not incur any damage from this move.

What happens when this mentality is taken out of a computer game and placed into the real world? Is it possible that we can see the effects of this in the recent political events like Brexit or Trump's electoral win? Citizens voting for these results, on one level or another, understood the self-harm that will be inflicted but considered it a price worth paying. It could be argued then that the 'Rock Head' is the protection in numbers and, rightly or wrongly, a belief in belonging and being a part of a new alternative. Or, to put it another way, desperately and aggressively trying to relinquish the reality that they currently find themselves in.

What then is the cost of these moves on our complicated, fragile social and political realities? How are they affected and effected by these reckless self motivated moves?

Whilst it would be simplistic to attribute a direct correlation of computer games to the real world, it would be fair say that there are echoes of common human behaviour in the way they both challenge and rewrite realities in their own image. The Modern Language Experiment is interested in countering the Double Edge with 'Rock Head' move by challenging the notion that choices are not just binary and easily categorised, but rather should be debated and challenged as the recoil damage will always be present whether 'Rock Head' exists or not. This show will critique ideas of alternative pasts and futures, exploring a multitude of tonal ranges to encourage discussion, thought and debate.

Zero Recoil Damage will be realised via two film screenings and a Publication

Screening ONE
Helen Knowles
Katharine Fry
Keh Ng
Matthew Stock
Tina Hage

Screening TWO
Keh Ng
Matthew Stock
Michelle Deignan
Patrick Goddard
Tina Hage
Warren Garland
The Publication will feature the voices of the artists in the screenings plus invited quests. The publicatin will be availble for free on both screening days. More information to follow.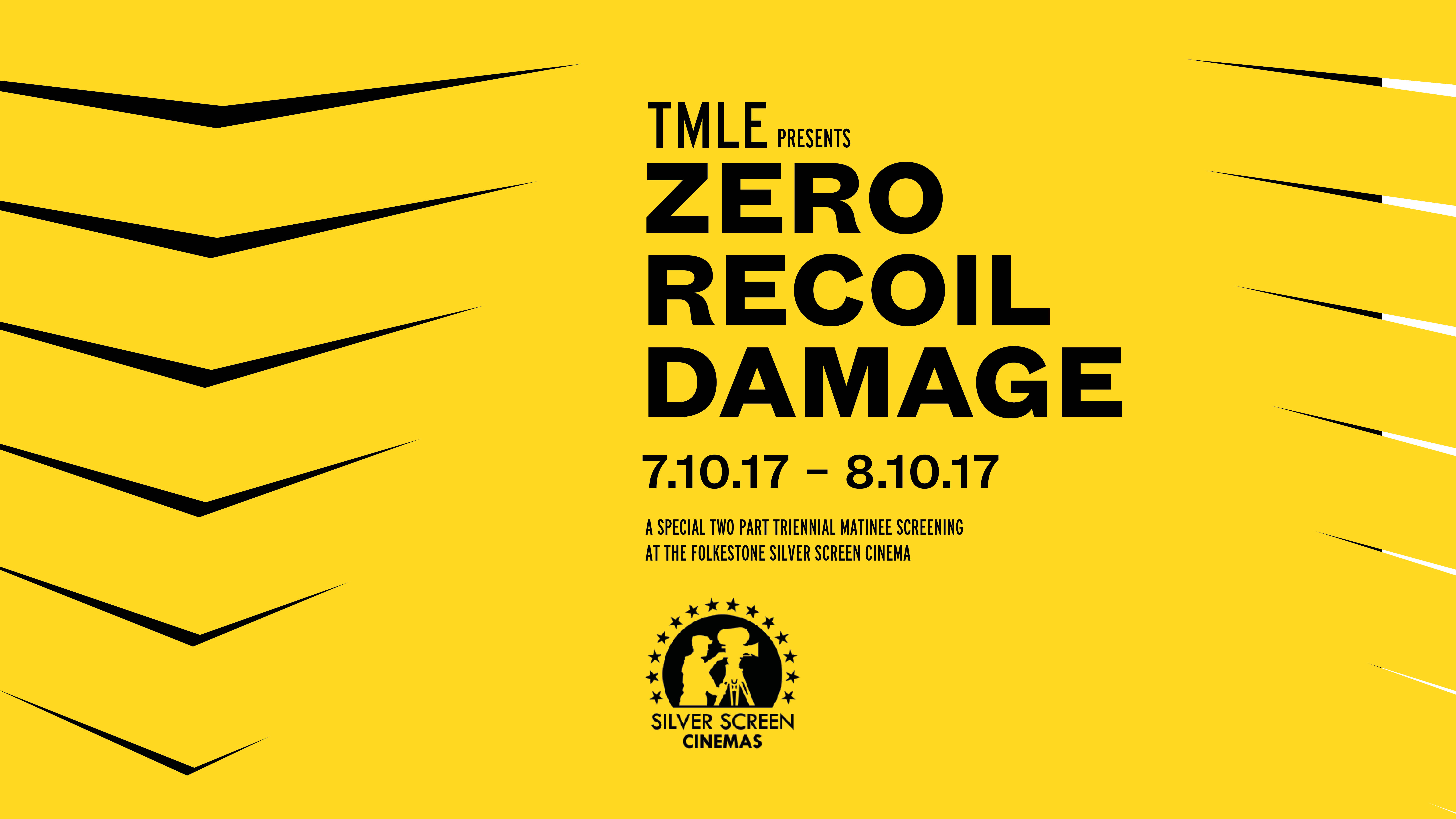 Silver Screen Cinema
The Town Hall
Guildhall St
Folkestone
CT20 1DY

Screening ONE
7th October 2017 5.30 - 7pm

Screening TWO
8th October 2017 5.30 - 7pm




---
Media

Images

Press


Works

Will be available one week before the screening.


---